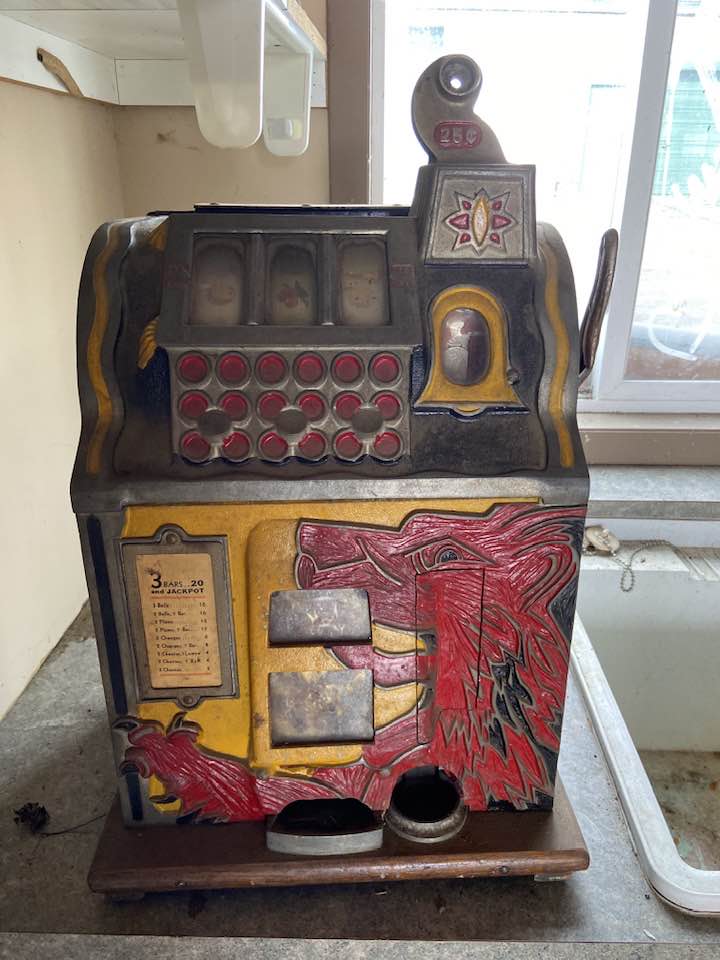 We Buy Slot Machines
Sell Your Antique Slot Machine
We are always on the lookout to purchase interesting antique penny arcade and slot machines as well as DeMoulin paraphernalia. Contact us if you have one for sale.
If you are looking for a particular antique slot machine please ask, also we periodically we have customer antique slot machine for sale., you can also request an antique slot machine I can locate one for you.
If you are looking for a fair deal to BUY an antique slot machine, you have come to the right place. Most of our time is spent RESTORING machines for collectors and clients who have a sentimental attachment to an antique slot machine.
Do you have an old slot machine you'd like to SELL? If you are serious about selling please e-mail us or call 218-742-7111 with a description of your pre-1960's machine.
Casino Restorations is interested in your single slot machine or an entire collection. How can you tell if your machine is pre-1950? Slots made before 1950 do not have lighted or plastic fronts, except for the Jennings Sun Chief models. They were metal and wood, not electronic. Most of the slot machines from the 1890's to 1940's were made by only a few manufacturers: Jennings, Mills, Pace, Watling, Caille and Superior.
When you call or e-mail please provide the following information:
• Manufacturer of your machine?
• Is it in working condition?
• What coin does it take? (nickel, dime, etc.)
• Are there any broken or missing parts?
Buying a Antique Slot machine
If you're interested in buying antique slot machines, you may want to consider partnering with a reputable company such as Casino Restorations. They specialize in restoring and repairing antique and contemporary slot machines, making them experts in the field. They have a wide range of experience in dealing with various makes and models of slot machines, from those built in the early 1900s to contemporary machines.
At Casino Restorations, they have an unrivaled inventory of antique slot machines, and they are always on the lookout for high-quality models to add to their collection. They are highly selective in the items they purchase, and they only look for models that are true conversation-starters and can't be found elsewhere. Whether you're looking to purchase an antique slot machine for personal use or as a collector's item, partnering with Casino Restorations will ensure that you have access to some of the most unique and sought-after models on the market.
SCHEDULE A FREE CONSULTATION
Antique slot machine restoration is what we do best! We feel that we are Minnesota's best at doing this very specific and exacting job. If your slot machine was made from the late 19th Century up to 1951, then you want to talk to us!